Facilities & Visitor Berth
Facilities & Visitor Berth
Information on Yokohama Bayside Marina facilities, visitor berth guidance and usage fees.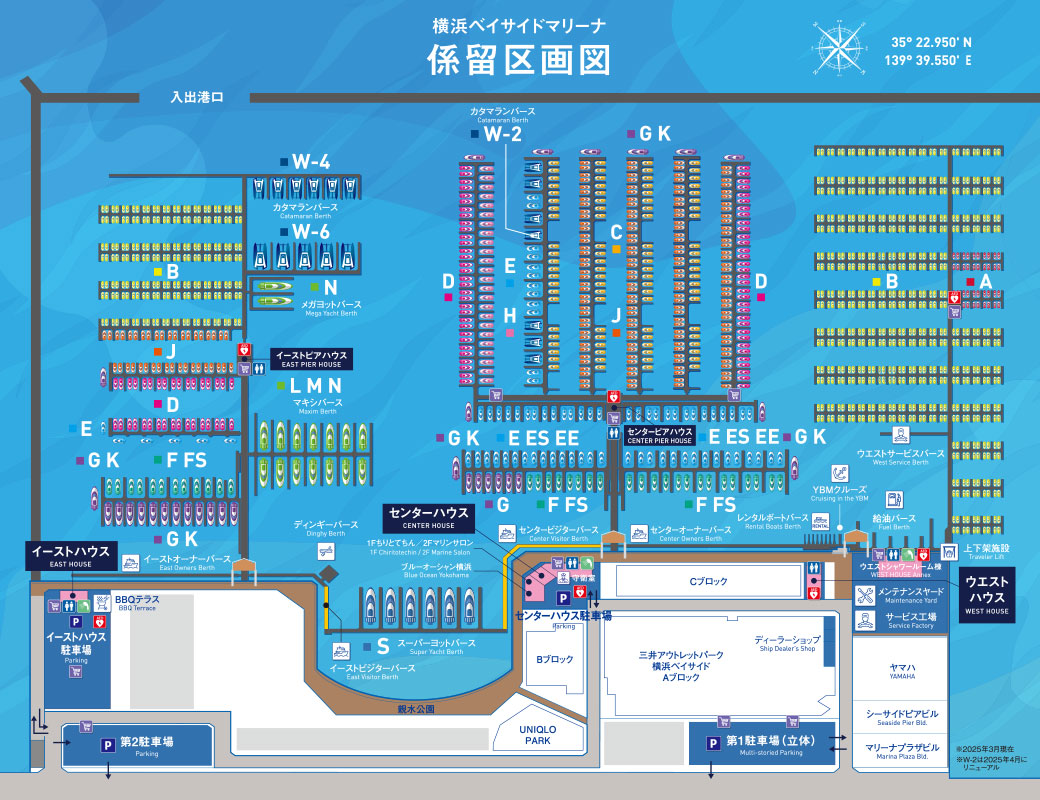 Facilities
Center House(Head office)

Reception desk and room / Owner's room / Meeting room / Security guard office / Shower rooms / Seamen's Cafe "Pier-1 / Ship Chandler "Core time"

East House

Registration desk / Reception of Charter cruise / Meeting room / Shower rooms

West House

Registration desk / Manages the fuel supply berth and the service center / yard / Travel Lift / Vacuum pump

Fuel supply Berth
We offer a lineup regular gasoline, premium gasoline, and diesel for your boating needs. Our Fuel Berthtr
Service center
Our experienced staff is also on hand to assist you if requested.
Maintenance Yard / DIY Yard
Our maintenance Yard is for maintaining your boats at peak condition out of the water.
There are 3 high-pressure cleaners for your convenience when maintaining your boat.
Travel Lift
The travel lift is equipped lift your boats promptly and safty. (Up to 20.0m length , 5.5m width , and 60t weight)
Vacuum pump
There are 2 vacuum pumps available at the Fuel Berth connected to a holding tank.
Use the vacuum pumps to avoid contaminating our beautiful ocean.
※Laundry
We prepare washing machine at each Pier House ,but we do not have adrier and aplace for drying.Please ask to Registration desk when you want to use it.
※Garbage
A dustbin is in the side of each Houses.Please separate according to the indication.
Visitor Berth & Fees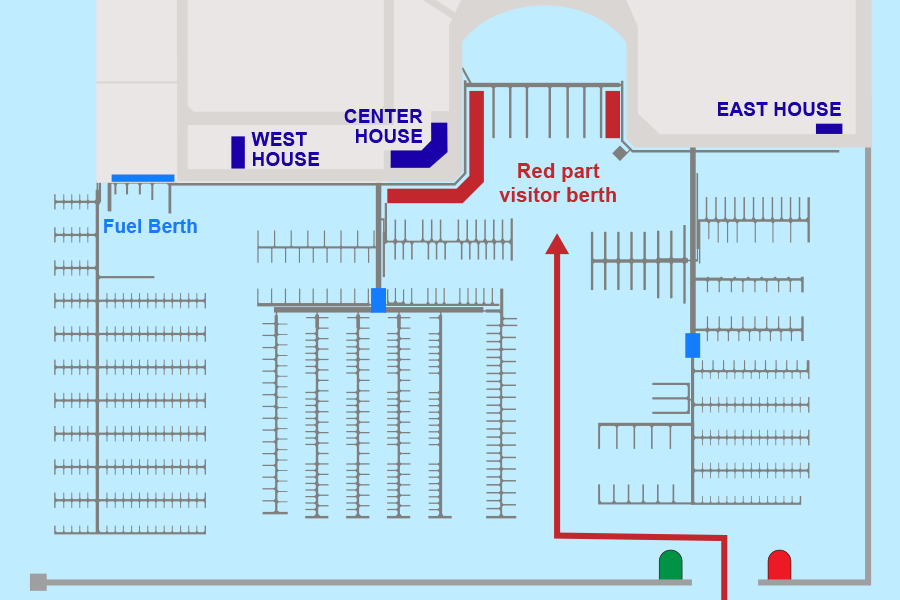 Day time [9:00-17:00]
| boat length | Usage fee |
| --- | --- |
| ~25ft | 2,200 yen |
| 26~32ft | 3,300 yen |
| 33~40ft | 4,400 yen |
| 41~50ft | 5,500 yen |
| 51ft~60ft | 6,600 yen |
| 61ft~70ft | 7,700 yen |
| 71ft~80ft | 8,800 yen |
| 81ft~90ft | 11,000 yen |
| 91ft~100ft | 16,500 yen |
| 101ft~110ft | 22,000 yen |
| 111ft~120ft | 27,500 yen |
| Power supply charge (Free transformer rental) | 1,100 yen |
| power supply extensioncord | 2,200 yen/time |
Overnight [9:00-next 10:00]
| boat length | Usage fee |
| --- | --- |
| ~25ft | 3,300 yen |
| 26~32ft | 6,600 yen |
| 33~40ft | 11,000 yen |
| 41~50ft | 22,000 yen |
| 51~60ft | 27,500 yen |
| 61~70ft | 33,000 yen |
| 71~80ft | 38,500 yen |
| 81~90ft | 44,000 yen |
| 91~100ft | 77,000 yen |
| 101ft~110ft | 82,500 yen |
| 111ft~120ft | 88,000 yen |
| Power supply charge (Free transformer rental) | 2,200 yen |
| power supply extensioncord | 2,200 yen/time |